Announcement
DRAGON BALL SUPER CARD GAME Producer Letter
Hello DBSCG players!
Thank you for supporting DRAGON BALL SUPER CARD GAME.
"Critical Blow" the most recent set of the Zenkai series was released on September 8!
Under the theme of special moves, Z05 introduced a new card type called "Z-Extra".
Unlike regular Extra cards, we expect this card to be a key element of the game as it can be used at any time from the Z-Deck.
Starting with Z05, Z-Extra will feature many powerful cards in the Premium Anniversary Box to be released in October and in Z06.
We hope you will enjoy the unique experience of the Z-Deck.
Thank you very much for your positive feedback on the preview of Z05 GOD Rare on Facebook!
We pursued a design that differentiates it from previous cards and developed it as a card that expresses that mystical aura that first appeared on GOD Rare like Gogeta.
Stay tuned for future developments of the GOD Rare cards!
Now, we would like to share with you a few details about the future development of DBSCG.
DBSCG plans to release products and hold events as follows.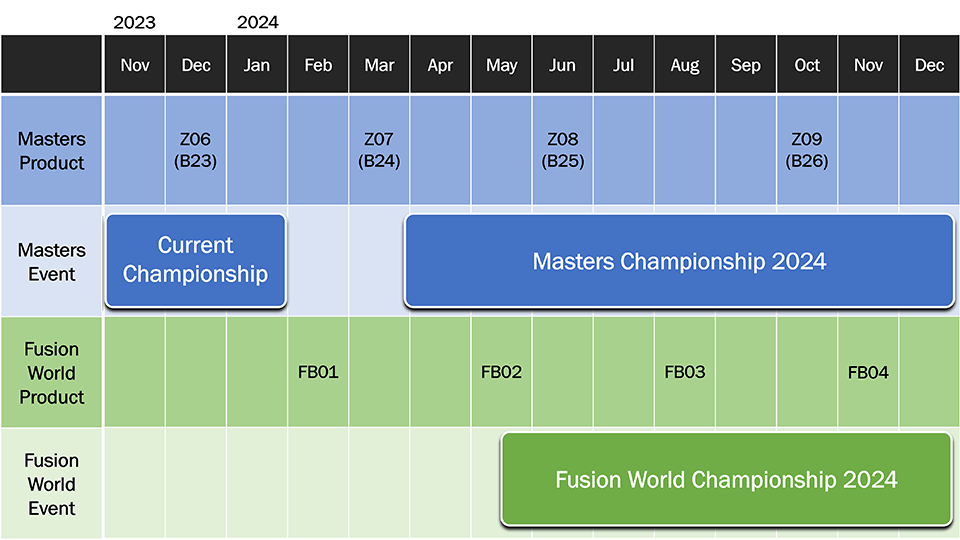 *Schedules may be subject to change.
*Release dates may vary by region.
We recently announced our new title "Fusion World" and received a wide range of feedback from everyone.
After reading your reactions, we thought it would be a good idea to update you on our product schedule and development policy so that players can look forward to future developments.
Now, let's delve a little deeper into the future development of MASTERS.
The World Championships, where the best in the world will be decided, will be held again this year! Detailed information on the timing and location of the event will be sent out soon!
In Z06, the Z-Extra effect will be more widely expanded, with cards that have Z-Stacks to increase the Z-Deck speed, cards that help with token utilization, and other cards that make for a more exciting play experience than Z05!
And The GDR will be included! Enjoy!
For Z07, we are adding two exciting new additions to the Z Deck.
The first addition is the arrival of Z-Unison!
We hope you will enjoy the new mechanics and a wider range of deck construction compared to Z06 and before. We hope you will also enjoy the new Z cards!
The other addition is an adjustment regarding the rules, but please wait for further information on this.
In Z07, we will be bringing back the popular Collector's Booster after a year's absence! Please look forward to it as well!

As for Z08, the development members are currently working on making it a special commemorative set to mark the 7th anniversary of DBSCG.
We are looking forward to making MASTERS, the cutting edge of DBSCG's continuing evolution, and we hope to make it even more exciting by creating surprises in a different way than we did with Fusion World.
We will make our next announcement around soon, stay tuned!
September 29,2023 Update
DBSCG Development Team