BOOSTER PACK

CLASH OF FATES

CLASH OF FATES SR Cards Showdown!


6 SRs appear in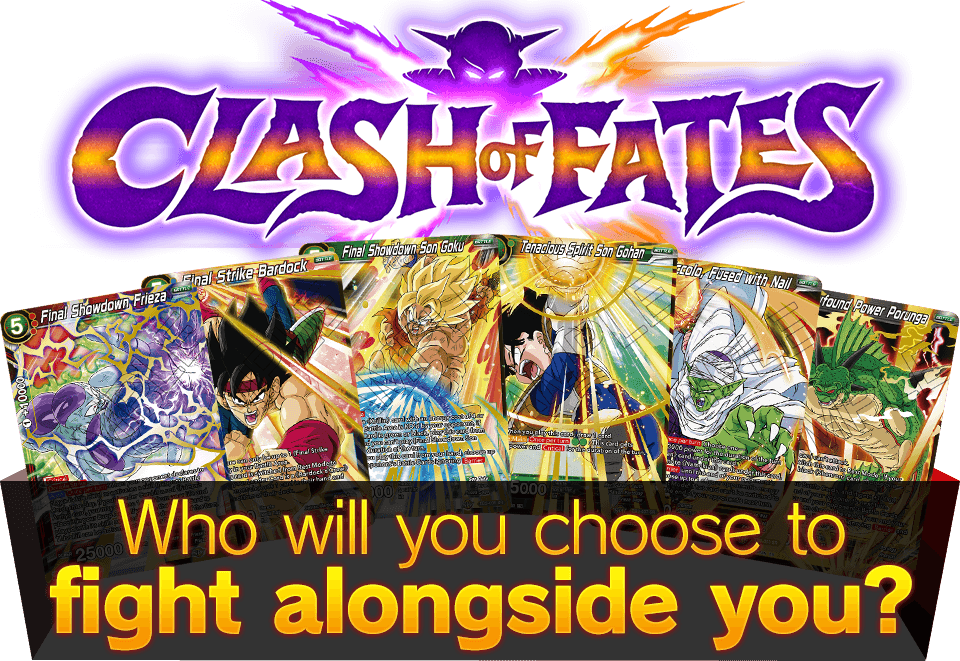 Red
Final Showdown Frieza
Negate your opponent's Battle Cards, then go on the attack with Critical and Double Strike! An offensive and defensive combination that will make your opponent's life a living nightmare!
Blue
Final Strike Bardock

Slow down your opponent's gameplan by stripping the cards from their hand! Set up an engine to repeatedly switch Bardock to Active Mode, and your opponent can kiss their hand goodbye!
Green
Final Showdown Son Goku
Use other Krillin cards like TB3-042/043 to create a powerful synergy your opponent won't see coming!
Tenacious Spirit Son Gohan

This Gohan replaces himself just by coming into play, and can transform into a ferocious attacker with just 2 energy!
Yellow
Piccolo, Fused with Nail

A card that represents Piccolo post-assimilation, with a skill that lets you power up or play defense depending on the situation!
Black
Newfound Power Porunga

SDraw 2 cards, power up your Battle Cards, or reset the battlefield. The choice is yours!